Older Patients with Knee Pain May Benefit from Allograft Transplant Technique
Knee pain in active patients over 40 is often difficult to treat but according to researchers presenting their work today at the American Orthopaedic Society for Sports Medicine's (AOSSM) Annual Meeting in San Diego utilizing a special kind of allograft may be a step in the right direction.
"Our findings note that patients older than 40 may benefit from using a fresh osteochondral allograft transplantation to treat focal cartilage defects, a common cause of knee pain in adults," said lead author, Dennis Crawford, MD, PhD from the Oregon Health and Science University in Portland, Oregon.
Click here to read the entire press release.
Other News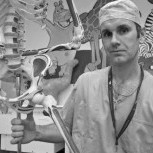 A 12-year-old boy has become the first person in Ireland to undergo a new transplant procedure to replace...
After a string of serious knee injuries, Mark, a 19-year-old college football player, faces an uncertain future...