Fresh Osteochondral Allograft Transplantation for Treatment of Large Cartilage Defects(Femoral Head)
The purpose of this study is to assess midterm clinical and radiographic outcomes after fresh osteochondral allograft transplantation (OAT) for large femoral head lesions at minimum 2-year follow-up. Fresh OAT may be a viable treatment option for osteochondral defects of the femoral head in young, active patients with minimal preexisting joint deformity.
Click here to read the entire abstract.
Other Resources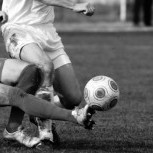 The MOCA group consensus states the ideal depth of a femoral Osteochondral Recipient site is between 6 - 10mm. In...
Purpose: To evaluate the outcomes of bipolar osteochondral allograft (OCA) transplantation in the patellofemoral...