Distal Tibial Allograft Glenoid Reconstruction in Recurrent Anterior Shoulder Instability
Purpose: To evaluate the clinical and radiographic outcomes for patients treated with a distal tibia allograft for recurrent anterior shoulder instability.
Summary:
27 patients, all male, underwent a glenoid reconstruction with distal tibia allograft
At a mean follow-up of 45 months there were significant improvements in ASES, WOSI and SANE scores
Computed tomography demonstrated an allograft healing rate of 89% at an average of 1.4 years post-op, an average allograft angle of 14.9° and allograft lysis was 3%
Grafts with angles less than 15° showed superior healing and graft incorporation
There were no cases of recurrent instability
JRF Ortho Take Away: Fresh distal tibia allograft reconstruction results in a clinically stable joint with excellent outcomes in reducing the rate of dislocation and improving pain and function.
Click here for the abstract.
Authors: Matthew T. Provencher, Rachel M. Frank, Petar Golijanin, Daniel Gross, Brian J. Cole, Nikhil N. Verma, Anthony A. Romeo
Published: Arthroscopy
Institution: The Steadman Clinic and Rush University Medical Center
Level of Evidence: Level IV Case Series
Other Resources
Purpose: To evaluate the outcomes of bipolar osteochondral allograft (OCA) transplantation in the patellofemoral...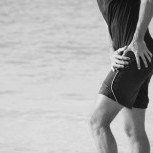 The purpose of this study is to assess midterm clinical and radiographic outcomes after fresh osteochondral allograft...