Long-term Survival Analysis of Meniscus Allograft Transplantation with Bone Fixation
Purpose: To investigate the long-term survival rate of meniscal allograft transplantations (MAT) with bone fixation.
Summary:
49 knees underwent a MAT procedure (34 lateral and 15 medial) with a minimum follow-up duration of 8 years
The "keyhole" technique was used on the lateral side whereas bone plugs were used on the medial side
10-year survival rate was 98.0% and the 15-year survival rate was 93.3%
There were no instances of revision MAT in this cohort and only 2 were considered failures
JRF Ortho Take Away: MAT using a bone fixation technique demonstrated a high clinical survival rate over long-term follow-up.
Click here to access the paper.
Authors: Jong-Min Kim, Seong-Il Bin, Bum-Sik Lee, Nam-Ki Kim, Ju-Ho Song, Jun-Weon Choi, Chang-Rack Lee
Published: Journal of Arthroscopy
Institution: University of Ulsan, Korea
Other Resources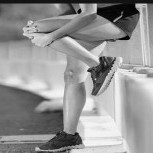 Purpose: To evaluate the survivorship and clinical outcomes of meniscal allograft transplantations (MAT) and...
Purpose: To assess meniscal allograft transplantation (MAT) outcomes and compare the results of different root...