Bio-Uni Success Story Using a JRF allograft.
Vonda Wright, M.D., M.S., an orthopedic surgeon at UPMC in Pittsburgh, Pennsylvania, determined a portion of April's bone and cartilage had died and had come loose inside the joint.
"For kids like her that have a very large cartilage problem, there are not a lot of options," explained Dr. Wright.
But April was a good candidate for a new procedure, a graft of bone and cartilage together called a BioUni. Dr. Wright used a small piece of donor bone.
"It's like being on the transplant list, except we have a week instead of one day," Dr. Wright told Ivanhoe.
When she opened April's knee and prepared the bone, the donor piece fit into the opening where the graft will fuse with April's knee.
Click here to read the entire story.
Other News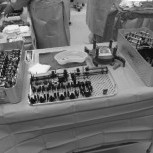 Lillie Gonzales could barely walk without the assistance of a cane when she went to see Dr. Matthew Ferguson, an...
"Our study demonstrated that the modern OCA transplantation technique, which utilizes thin, dowel type grafts, was...