Osteochondral Allograft Transplantation of the Knee: Analysis of Failures at 5 Years
Purpose: To quantify osteochondral allograft (OCA) transplantation survival in a large series of patients and report findings at time of reoperation.
Summary:
180 patients underwent an OCA transplantation with or without concomitant surgery
At a mean follow-up of 5 years, 66 patients (37%) had undergone a reoperation
91% of these reoperations were arthroscopic debridements
After arthroscopic debridement with an intact graft, 82% of patients had significantly improved outcomes
Overall there was an allograft survival rate of 87% at 5 years
Number of previous ipsilateral knee surgeries and BMI were independent factors of reoperation and failure
Patients undergoing concomitant MAT with an OCA procedure did not have an increased risk of failure
JRF Ortho Take Away: Despite a relatively high reoperation rate, the overall allograft survival rate suggests that reoperation itself does not necessarily indicate a failure.
Click here to read the entire paper.
Authors: Rachel M. Frank, Simon Lee, David Levy, Sarah Poland, Maggie Smith, Nina Scalise, Gregory L. Cvetanovich
Published: The American Journal of Sports Medicine
Level of Evidence: IV
Institution: Rush University Medical Center
Other Resources
Dr. LaPrade recently published a case report for transplanting a very large trochlear allograft in a 21 year old...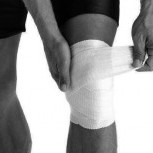 This study evaluates the relationship between PRO's and satisfaction following fresh osteochondral allograft...