New report examines the global soft tissue allografts market
The global market for soft tissue allografts has a prosperous future, and is projected to experience incrementing demand at a CAGR of 6.3% during the forecast period of 2017 to 2025. The global soft tissue allografts market is estimated to reach a valuation of US$6.2 bn by the end of 2025, considerably up from its evaluated worth of US$3.6 bn in 2016. Increasing geriatric population who frequently need orthopedic assistance, growing demand of soft tissue allografts among athletes, escalation in anterior cruciate ligament (ACL) reconstruction surgeries, and requirement for cares of diabetes-caused foot ulcer are some of the key factors augmenting demand in the global soft tissue allografts market.
Click here to see the entire article.
Other News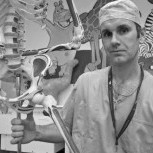 A 12-year-old boy has become the first person in Ireland to undergo a new transplant procedure to replace...
After a string of serious knee injuries, Mark, a 19-year-old college football player, faces an uncertain future...