Festus Ezeli's knee surgery to involve donated tissue
Portland Trail Blazers center Festus Ezeli is expected to undergo a surgical procedure on his left knee next week. The procedure will involve the use of a cadaver donor, league sources said. Ezeli has sought a donor for months, sources said, but because of his 6-foot-11 stature, finding a matching donor was problematic. The surgery was scheduled when a donor was recently submitted, sources said.
Click here to read the entire article.
Other News
The purpose of this study is to retrospectively analyze previously collected data to evaluate the clinical and...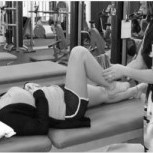 Vonda Wright, M.D., M.S., an orthopedic surgeon at UPMC in Pittsburgh, Pennsylvania, determined a portion of...