Festus Ezeli's knee surgery to involve donated tissue
Portland Trail Blazers center Festus Ezeli is expected to undergo a surgical procedure on his left knee next week. The procedure will involve the use of a cadaver donor, league sources said. Ezeli has sought a donor for months, sources said, but because of his 6-foot-11 stature, finding a matching donor was problematic. The surgery was scheduled when a donor was recently submitted, sources said.
Click here to read the entire article.
Other News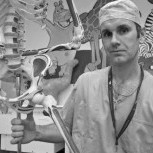 A 12-year-old boy has become the first person in Ireland to undergo a new transplant procedure to replace...
After a string of serious knee injuries, Mark, a 19-year-old college football player, faces an uncertain future...